....but no more, unless her people come to her aid NOW!
Top Bush aides pushed for Guantánamo torture
Senior officials bypassed army chief to introduce interrogation methods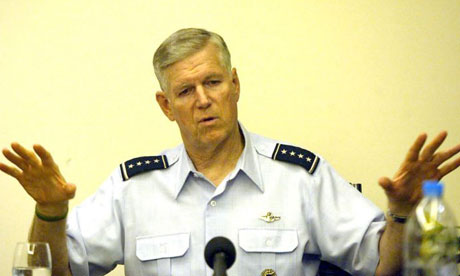 America's most senior general was "hoodwinked" by top Bush administration officials determined to push through aggressive interrogation techniques of terror suspects held at Guantánamo Bay, leading to the US military abandoning its age-old ban on the cruel and inhumane treatment of prisoners, the Guardian reveals today.
General Richard Myers, chairman of the US joint chiefs of staff from 2001 to 2005, wrongly believed that inmates at Guantánamo and other prisons were protected by the Geneva conventions and from abuse tantamount to torture.
The way he was duped by senior officials in Washington, who believed the Geneva conventions and other traditional safeguards were out of date, is disclosed in a devastating account of their role, extracts of which appear in today's Guardian.
In his new book, Torture Team, Philippe Sands QC, professor of law at University College London, reveals that:
· Senior Bush administration figures pushed through previously outlawed measures with the aid of inexperienced military officials at Guantánamo.
· Myers believes he was a victim of "intrigue" by top lawyers at the department of justice, the office of vice-president Dick Cheney, and at Donald Rumsfeld's defence department.
· The Guantánamo lawyers charged with devising interrogation techniques were inspired by the exploits of Jack Bauer in the American TV series 24.
· Myers wrongly believed interrogation techniques had been taken from the army's field manual.
The lawyers, all political appointees, who pushed through the interrogation techniques were Alberto Gonzales, David Addington and William Haynes. Also involved were Doug Feith, Rumsfeld's under-secretary for policy, and Jay Bybee and John Yoo, two assistant attorney generals.
Mark these names carefully, compatriots! There time is coming.

The revelations have sparked a fierce response in the US from those familiar with the contents of the book, and who are determined to establish accountability for the way the Bush administration violated international and domestic law by sanctioning prisoner abuse and torture.
The Bush administration has tried to explain away the ill-treatment of detainees at Guantánamo Bay and Abu Ghraib prison in Iraq by blaming junior officials. Sands' book establishes that pressure for aggressive and cruel treatment of detainees came from the top and was sanctioned by the most senior lawyers.
Myers was one top official who did not understand the implications of what was being done. Sands, who spent three hours with the former general, says he was "confused" about the decisions that were taken.
Myers mistakenly believed that new techniques recommended by Haynes and authorised by Rumsfeld in December 2002 for use by the military at Guantánamo had been taken from the US army field manual. They included hooding, sensory deprivation, and physical and mental abuse.
Does anyone wonder what kind of physical and mental abuse we are talking about here? Given that we have all heard or read about some detainees who were completely out of their minds by the time they were interviewed by a defense lawyer, I would like to know what is being done to human minds in our names.

"As we worked through the list of techniques, Myers became increasingly hesitant and troubled," writes Sands. "Haynes and Rumsfeld had been able to run rings around him."
Myers and his closest advisers were cut out of the decision-making process. He did not know that Bush administration officials were changing the rules allowing interrogation techniques, including the use of dogs, amounting to torture.
"We never authorised torture, we just didn't, not what we would do," Myers said. Sands comments: "He really had taken his eye off the ball ... he didn't ask too many questions ... and kept his distance from the decision-making process."
Larry Wilkerson, a former army officer and chief of staff to Colin Powell, US secretary of state at the time, told the Guardian: "I do know that Rumsfeld had neutralised the chairman [Myers] in many significant ways.
"The secretary did this by cutting [Myers] out of important communications, meetings, deliberations and plans.
"At the end of the day, however, Dick Myers was not a very powerful chairman in the first place, one reason Rumsfeld recommended him for the job".
He added: "Haynes, Feith, Yoo, Bybee, Gonzalez and - at the apex - Addington, should never travel outside the US, except perhaps to Saudi Arabia and Israel. They broke the law; they violated their professional ethical code. In future, some government may build the case necessary to prosecute them in a foreign court, or in an international court."
Out of the country? What? Making our country a safe place for international criminals.? Giving torturers safe haven? Making every American complicit in giving shelter to terrorists, essentially? Are you serious?
(Someone should warn Saudi Arabia and Israel that there are those who would not take kindly to them giving safe haven to terrorists either.)
It is our country these men have harmed greatly, in ways it will take years to fully comprehend, with their unconscionable behavior. They have tortured and murdered other human beings in our name, while making use of our money to pull it off.
Did we not learn a damn thing from what happened in Germany, a very young Democracy compared to ours, when they followed a deranged madman and his cabal of evil-doers off a cliff?
If "We, the people" care about human decency, human rights, meaning ours as well as those of our planetary family, the golden rule, the Nuremberg accords, the Geneva conventions, the U.N. Charter, our own constitution and/or our own souls, we had better be prepared to do what our government will not. The Hague is still there. It is up to us to see that our war criminals get the same treatment as others who have gone before them.
For those who don't give a damn about any of the above, allow me to assure you that karma will take care of you in ways your fellow citizens, nor the prosecutors and judges at Hague, could ever imagine. Count on it.
This war crimes/torture issue is the single biggest one for our nation's well-being (which is already in peril) and for our own souls' sake. We are not only losing an ill-conceived, criminal war in Iraq, which is only right and proper, given the way in which it was conceived, we are losing our identity as a nation. (Perhaps that is not an altogether bad thing, since our self-identity was a bit overblown anyway. Nevertheless, we are losing it in such a way that it is dangerous for all of us and our progeny, in ways we cannot yet imagine.)
(In accordance with Title 17 U.S.C. Section 107, this material is distributed without profit to those who have expressed a prior interest in receiving the included information for research and educational purposes. I.U. has no affiliation whatsoever with the originator of this article nor is I.U endorsed or sponsored by the originator.)
The Nazis, Fascists and Communists were political parties before they became enemies of liberty and mass murderers.